As someone who loves to write about this game as well as my team, I will be the first one to admit that it's something that's a lot easier to do when you have things to complain about. When our teams are doing well (more specifically topping the league in points, ahem) and keeping smiles on our happy faces, we're conveniently silent, whereas when our boys go about stinking up the place, the rants never seem to end…

This is one case where I'm making an exception.

Cue full blown homerism.

I know I'm not the only Sharks fan to feel this way but, we're pretty lucky here in San Jose. No, its not the weather, or the Cali beaches, or the meticulously manicured city that makes me say that. Its more than that…it's something we all know and you can feel the pride in the air any time you venture near the Tank.
What is it that makes us lucky, you ask? Well, allow me to enlighten you.

Home sweet home…the Shark Tank is completely amazing. Ask anyone who's ever been here and they'll tell you…from the beautiful concourse, to the seating, and even the Blue Jackets (no I don't mean Columbus) game time never fails to disappoint. The food could be a little better, but hey, who can complain when you're watching a live hockey game?

My Comrades…my partners in crime…the fellow fans…and I don't just mean the other 17,495 people who sit next to me when the puck drops…_I mean our whole community_. I am sure everyone who's been to HP or knows a Shark fan could attest to the fact that we are quite the little group. We take as much pride in each other as we do in our team, and are as quick to defend one another as we are our boys…and that's just how it is. Don't mess.

The boys…Team Teal themselves. What can I say that hasn't been said by every one of their fans, friends, supporters, announcers, staff members, journalists and even each other? It comes down to the fact that every last one of these men represent the core values of the sport…
Character, heart, resiliency, creativity, work ethic, commitment, hunger.

Its part of their make up. Its what fuels the pride and dedication of their fans…all of these things are what make us lucky to be called "Sharks fans".

Recently however, I experienced something that many Sharks fans have not had the opportunity to experience. Something that is definitely an extension of everything said above…and it's something that I feel needs some significant recognition…so I'm gonna give it…

I took a trip back East this past Halloween to take in the "spirit o' the witch trials" in Salem, Massechussetts…in planning this trip I thought it might be fun to go to Worcester to catch a game, you know – when in Rome. Now, in case some of you don't know, Worcester is the home of the Sharks AHL Affiliate, the Worcester Sharks.

Needless to say I had no idea what to expect…this would be the first hockey game outside of San Jose that I've ever attended…and I was going it alone. That's right, all by my onesie…but regardless…_I was beyond excited._

I got my ticket. One solitary ticket…_sigh._ But hey, atleast I got to sit center ice, first row behind the Sharks bench right?

When game day came, I went and rented my car…(it was a cute little black Altima that flew up 90 like nobody's business…) and was on my way…a little nervous to say the least, and I had a one hour trip to get the full on butterflies…

I was told by someone "in the know" that everybody's friendly in Worcester. I guess I just didn't think much of it.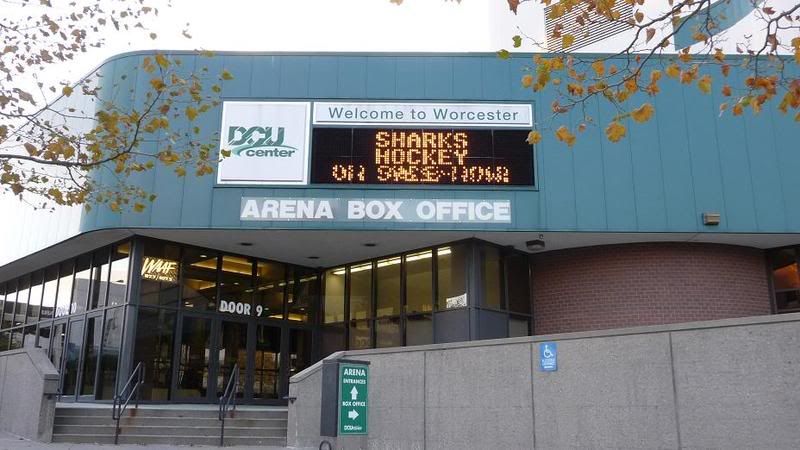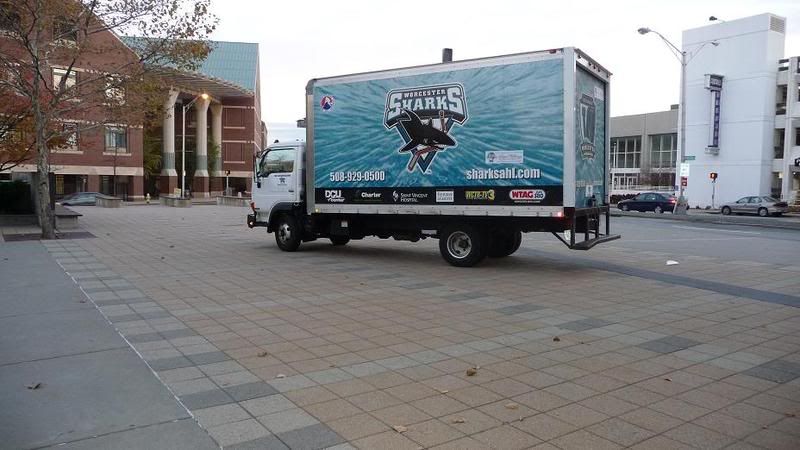 Once I stepped inside the DCU Center, it seemed as though everyone I encountered did all they could to make sure I was happy, and when they found out I came out from San Jose they were beside themselves. Everyone was so accomodating and so incredible it made me feel like I was part of the community. There was an instance where they were afraid they were making a bad impression on me but in fact nothing could be further from the truth…

When it was time for the puck to drop I was ready (but unprepared) for just how much these players would blow me away. Now, some of you may be familiar with a couple of their names if you've been following the Sharks for the past two weeks…but regardless of what you know, I'm going to assume you don't…and I want you to introduce you to a few guys who you may very well see more of in the upcoming months.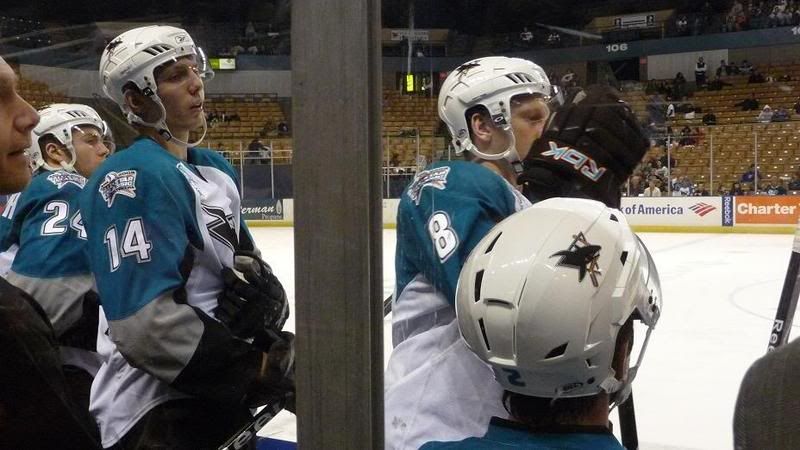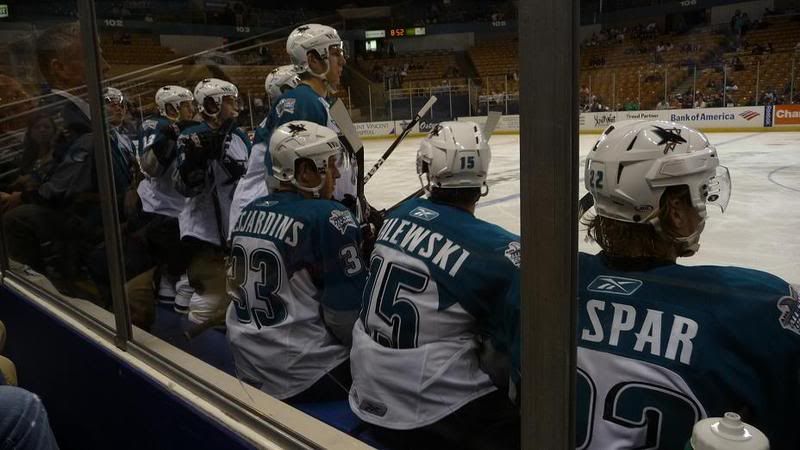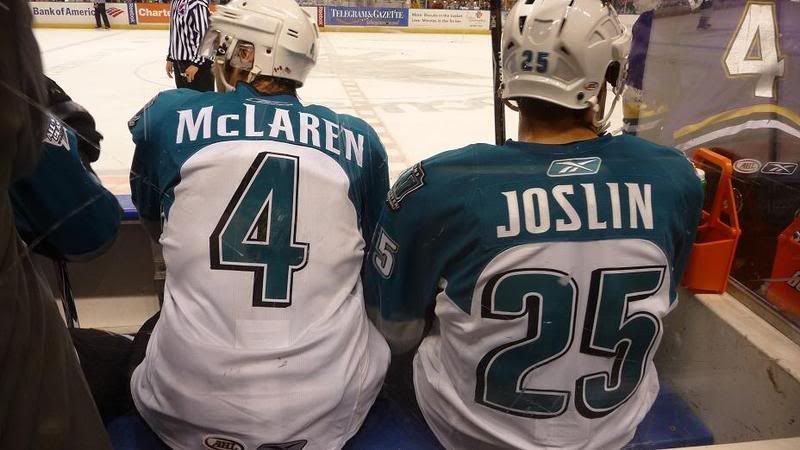 Meet the Worcester Sharks…the lesser known guys who possess the same core values as anyone else in the Sharks organization. Given the veteran roster our NHL team has, you may not see a lot of these boys but please don't sell their incredible talent short…


This Center made his NHL debut on April 4th against the Kings at the end of last season and on his first shift on the ice, recorded his first point as an assist on Joe Thornton's goal…needless to say, he found a home in fans' hearts pretty quickly.

At the game I attended on 11/1 against the Manchester Monarchs, Cavanaugh tallied an assist on the first goal of the night and got the second goal for Worcester.

Its no doubt that his 55 points (19 G, 36 A) from last season is the reason he sees so much ice time…and now with NHL experience under his belt, he's even more of a force on Worcester's roster. When you watch him play you definitely get that he's the "big man on campus".


Made his NHL debut in the Sharks home opener against the Anaheim Ducks…went on to notch his first NHL goal against the Kings – which would wind up being the only goal of the night as well as the game winner. Lukas put up the third goal of the game against Manchester and got his first goal of the Worcester season…

Anyone who's seen him play can attest to the fact that Kaspar's got a lot of natural talent…and the crowd certainly went wild after he scored and he's one of those guys who doesn't try to hide their excitement. It is a pleasure to watch him succeed.


Jamie McGinn

Made his NHL debut at home in San Jose against Pittsburgh but went on to notch his first NHL goal against the Red Wings on October 30th. He came up huge again on Election Day versus the Minnesota Wild when he tallied the second goal of the night.

In my eyes, Jamie is a perfect fit in San Jose. His style of play is so professional, he looks like he's been in the NHL for much longer than three games, and no I'm not just saying that because he's scored two goals so far…there's just something there. He also gels so well with the team and matches the intensity of his fellow linemates that I can't help but jump to my feet any time he skates onto the ice for a shift. He's got that hunger – McGinn wants the McWin.






Derek Joslin

This gritty defenseman hasn't seen any NHL action yet this season but I know that will soon come to an end. I didn't get the chance to catch him during training camp but from what I saw throughout our preseason, Joslin will only add depth to our blue line if that's where McLellan chooses to keep him. Much like McGinn, Joslin has a natural knack for gelling with the team…

At the November 1st game versus Manchester, he didn't register any points but he did catch a tripping penalty which his teammates easily killed. When you watch him on the ice, especially at Worcester, you get a real sense of his strong leadership skills. He always seems to be in the right place at the right time and is a constant support to his linemates.


What can I say about Greiss? Is it his Zoolander-esque looks that do it? Or maybe just his German charm? No…while those things are quite true (and irrelevant) what really stands out when you watch Greiss in goal is how much he has learned from Nabby. During warm ups at Saturday's game, it felt as if I was back here in San Jose while watching Greiss executing drills. While he still has a little ways to go, the lil' Nabby protege left me amazed with some of the saves he made that night.

Until we acquired Brian Boucher last season, Greiss was the main back-up boy. Until that fateful road trip game against the Isles last February when Nabby was injured by a slapshot to the mask, (I believe it was Mike Comrie…this Long Islander is not amused, MIKE.) Greiss really hadn't had the opportunity to show his stuff…and even though they wound up losing the contest it was experience for Greiss…experience from which as far as I can tell, he has grown immensely.


I can't even begin to express how much recognition this team deserves…but alas, being "sold short" is the name of the AHL game it seems…and proving yourself game in and game out is as much of a necessity as lacing up your skates.

However I would strongly recommend that if you live or ever visit the Boston area, take the trip to Worcester. You won't be disappointed. In fact I can guarantee that you'll have an absolute blast…I know I did…and heck, I was all alone.
There are more Sharks that you have yet to be introduced to, in fact I had a much longer list initially…but I figure you can probably only handle one tasty helping of AHL homerism at a time…so I'll curb it for now and leave you, my reader, with this…something that happened tonight. Something that solidified what being a hockey fan and a lover of the game is really all about…
Tonight I attended the Sharks game versus St. Louis, but what was different about this game was that I decided to invite my best friend Kevin to come along. He is a diehard football fan who has never given hockey a second thought let alone been to a game…he knows what a significant role hockey plays in my life and has expressed interest in having me try to "win him over" by taking him to a game…a way to plead my case if you will. I expected it to be fun, I knew he would have a great time…but I didn't expect him to
love
every minute of it like he did. He was completely blown away…and watching his amazement reminded me of January 5th…11 months ago now…when that slack-jawed newbie was me. Not having a clue as to what was going on but being completely taken by the game. It was then that I realized that I didn't have to plead my case…this sport speaks for itself…and it speaks volumes in a single shift.
When I asked him if he had a good time, and his response was a speechless ear to ear grin, I knew I had my answer.