So this is my "home opener" blog…hopefully it won't be a
homer
blog.
I wanted to write this a while ago but decided to wait…I wanted to wait because there still were a few teams (and fans) who hadn't experienced their home opener yet…and quite frankly I like hearing about everyone else's experiences more than anything.
But here it is…
my first home opener.
We were lucky. We were one of three teams who hosted their home opener on Thursday October 9th…the first day of regular season hockey on North American soil. So in a way, the 17,496 of us helped ring in the new season, not only for the Sharks but for the entire league.
So what better a way to celebrate the night than a pre-game street rally? A little beer for charity, free ice cream and some great hockey…who could ask for anything more??
Really!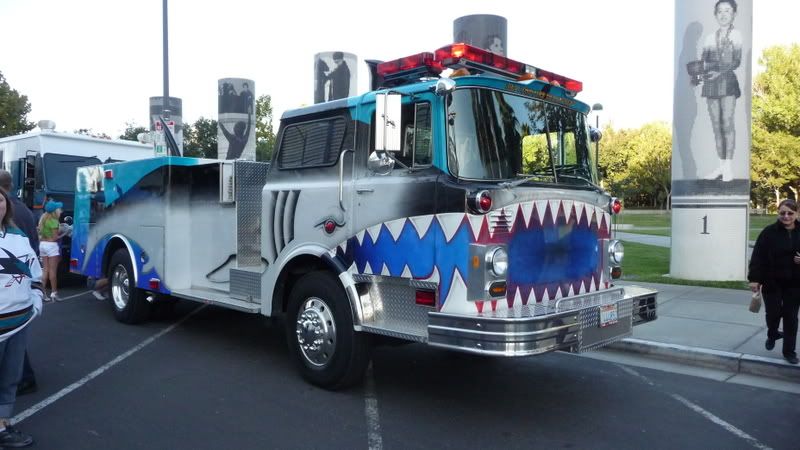 Playstation had consoles and TV's set up, Best Buy was handing out Geek Squad t-shirts, Dave and Busters was giving out free t-shirts and power cards, TOGO's was passing around vouchers for free sandwiches, Barracuda had a "Puck the Ducks" table set up (best idea yet)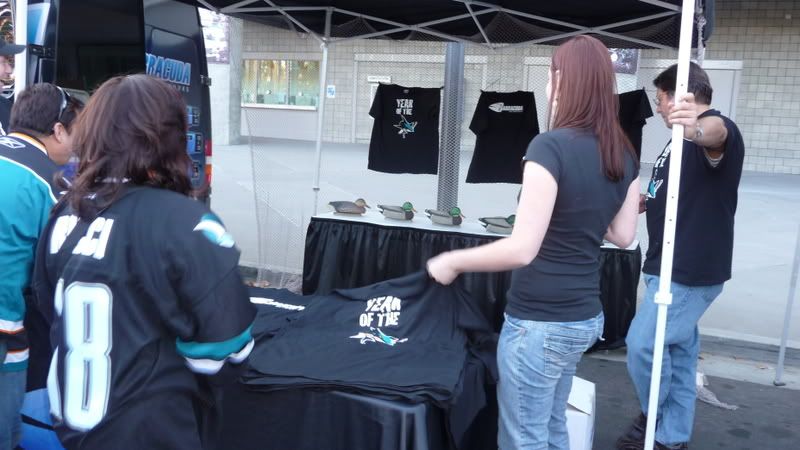 and there was a dunk tank in which an unlucky volunteer donning a Ducks Jersey sat beside a sign reading "Dunk the Anaheim Ducks".
All in all it was a huge party. We left with more free stuff than we'll ever find use for but it was truly a great time.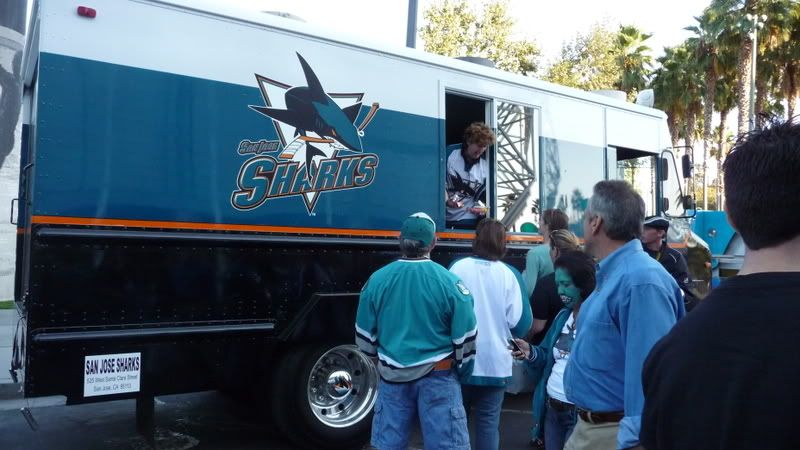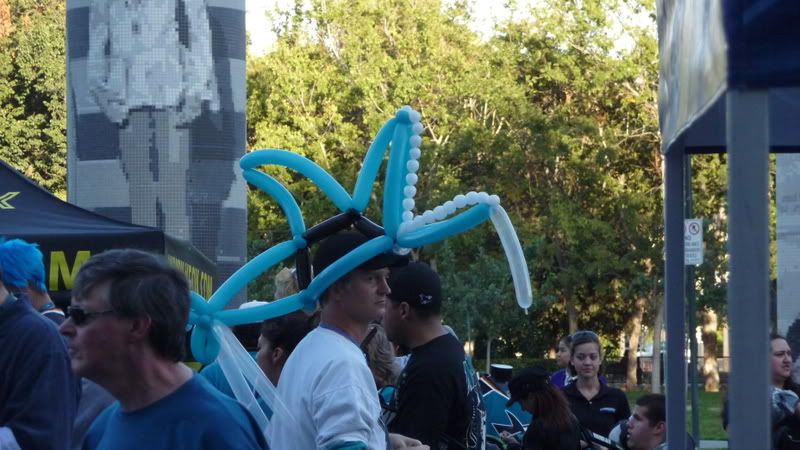 The Home Opener was also a mystery puck night. For those of you who may not know, this is when you purchase a wrapped puck for $20 (which goes to the Sharks Foundation) and then you unwrap it and reveal which player's autograph you got. We usually always participate…mainly because I really want to buy one of those huge puck display cases and show them off.
(If you want to know who's puck I got, just ask…
)
Then we were finally free to roam…we were back home.
On the concourse I felt like a little idiot…I had a ridiculously lame spring in my step…the same "spring" that you get when you first fall in love or when you win a million dollars (not like I have
ANY
experience with the latter…) but when I looked around, I realized – everyone had that same giddy, happy-go-lucky gleam in their eyes. Coulda been the beer, but either way,
we just couldn't wait.
This was it, this is our very first game in ink…the first one in the official books. This game would set the tempo for the beginning of our new season…we just
had
to get it right. Nothing could spoil our spirits…we just knew we weren't going home disappointed.
When the Tank was full, and the lights were dimmed, the crowd went wild…just wild. The volume and energy rivaled a playoff atmosphere…I don't even think the players could have expected that in their wildest dreams they could be that well loved…but especially in the wake of last season's dramatic successes and tragic losses, it seems that the connection between this team and their loyal fans has tightened and become much closer than before…if that's even possible.
Then the banner was lowered –
Pacific Division Champs
… which no doubt brought a tear to the eye of many of the Sharks' faithful. We may only have three banners in our rafters now, but they are three hard fought, blood-sweat-and-tears stained banners, banners that will only multiply in our seasons to come…
We got introduced to our "new" 2008-2009 San Jose Sharks and then the puck dropped…
And as far as the game went…
What I wanna know is, who told Parros to keep it clean? Maybe his momma was sick of nursing his absurd wounds and gave him a serious talkin' to. Either way, it seemed he did not want to drop the gloves that night…at all. Who knows – his face was probably still sore from his last rendevous at San Jose. The game really started off pretty slow and I wish I could say it was enthralling and spectacular but it was neither…something was being held back…
BIG
TIME
. It was like we were skating through three feet of water the entire first period…no exciting fights, or hits, or breakaways…(I think I even dozed off at one point?)
But things were to change after the first intermission.
It seems that the way we played this first game has dictated the way we have played all others since…we come out swinging in the second and third. It seems to be working. Nabby is wonderfully consistent and our D is D-lightful…its hard to really analyze the play when our coaching staff is still trying out line combinations…all one can really attest to is that the Sharks look great.
With every breakaway, every shot, every goal, every power play…the fans just got more and more into it…to the point where Parros taking a penalty brought the entire Tank to its feet and the cheers were deafening. Being a new fan and experiencing a lot of "firsts" I realized what's so special about the season opener…its a new beginning. A symbol of change, reinvention, learning from your old mistakes…and for the Sharks its picking up where we left off…but stronger, smarter and better than before.
On October 9th, I felt something as strong as I felt it on January 5th…the magic of a hockey game. It's like falling in love all over again. January 5th was my first ever game…the day that changed my world forever. Every day since then I've learned more and more about the game, and with every new thing I learn there's one more reason for me to love it.
I look forward to seeing how the next few weeks unfold for our boys in the
NHL
…all of them. I personally am looking forward to the Sharks-Flyers game on Saturday…its one of the most highly anticipated games for me this season…
Good luck to all!
Yeah this pretty much turned out to be a homer blog…