This is going to be a tough one to write about. I had been waiting the entire off season for this game. As of Thursday morning we weren't even going to be in town for this game which honestly broke my heart. I was supposed to be at Yosemite…enjoying a relaxing weekend of watching my back for bears and dodging annoying tourists. But my luck turned as we found out that the family friends we were supposed to be staying with had an emergency and we were off the hook.


But in the end, it worked out (for us anyway) because we got to go to the game. We got tickets in the lower bowl…and I was so psyched to get my butt to the tank. Like I said before, I had been waiting the entire off season for this game. You may ask, Why Teal? Why this game? Let me enlighten you…


You see, we all have those teams that we secretly love. I don't care who you are, what team you support – you've got a crush on another team. We all do. Trust me.


For those of you who do not know, for me that team is the Flyers. Through the playoffs and into the off season I learned a lot about the team and with the help of a few of the Flyers faithful here on Connect I've come to realize that they've got a lot to offer. I appreciate the talent they possess, as well as the work ethic and character of the guys themselves and they've got two amazing goaltenders who the fans absolutely adore…


Needless to say I knew it would be a great game to go to…but I noticed something I didn't expect.


I didn't expect there to be such a presence of Flyers fans…especially not 3,000 miles away from their team's home city. But despite the fact that most Sharks fans got their cages rattled every time the Flyers scored (and their fans chirped accordingly) I loved it. It was all in good fun and I could only imagine how good it feels to be a fan of the visiting team when your boys score…pretty good for the ego, eh? Besides, the cheers from the fans in orange sounded like elevator music compared to the explosion in the tank when the Sharks found the net…but like I've heard many times before, the Tank is a tough place for other teams to play in…hmmm, I wonder why…


It was pretty amazing to see Biron and Niittymaki up close and personal, as well as the rest of the boys. I do have to say, Upshall and Richards are MUCH better in person than in pictures…I'm just sayin.






After the Sharks game in Anaheim on Friday night, I was a little apprehensive about how Saturday night's game would play out. If these "new" Sharks were anything like ye olde Sharks, it didn't bode well for them. Also, this was our first game against an Eastern Conference team…it certainly would prove to be interesting if nothing else.


I guess I just wasn't prepared for exactly how interesting it would be.
When the puck dropped it was like the Flyers were shot out of a cannon. Their speed was incredible and their physical play was unexpected to say the least. They brought so much intensity to San Jose…it was nice to see. Given their current record, you could definitely tell they wanted it. You could see the hunger in every guy wearing a Flyers jersey…fans included.

If you didn't know that the Flyers hadn't won a game yet, you certainly wouldn't be able to tell from last night's performance. They played like a team that had their stuff together. All of their lines really seemed to gel, Danny Briere was on his game again, their forecheck was large and in charge, their penalty kill (unfortunately for us) was great and their goaltending was, well…if you don't know by now then you better just see your way out of this blog.






The energy and intensity could also be seen in the penalties that were taken and the gloves that were dropped. I loved seeing how scrappy both teams were with each other. Being as we generally don't get to see their beautiful faces that often, it was good to see our boys pound them the first chance we got.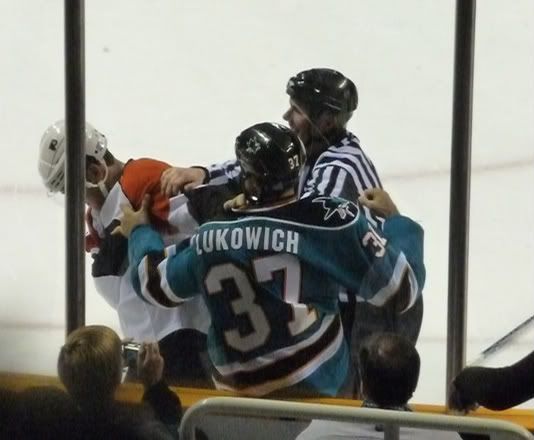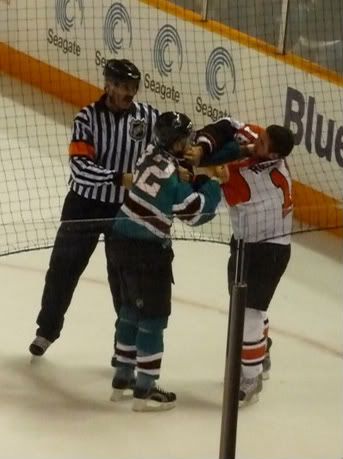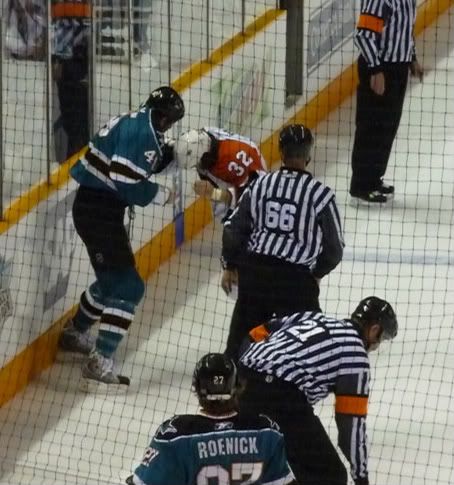 As for my boys in teal, what can I say? Our D scored 2 out of 5 goals last night…which is an incredible feat in my opinion. After Braydon Coburn's goal early in the second, Ehrhoff came up huge with a amazing goal…our first of the night…Ehrhoff has come a long way from last season (thank goodness) and believe me when I say, it is a welcome change for this team. Then Jeff Carter got a shortie on our power play which surprised even Nabby I'm sure. We were down by a two goal deficit…then at the end of the second, a screen was set up and Cheechoo put one up on the scoreboard for us with an amazing tip-in during a power play. Pavelski evened things up in the third and then Setoguchi proved he is really stepping up his game and playing hard with the big boys. He came through for us in the third with a goal so beautiful it should be framed and placed in the Thomas Kincade Archives in Monterey.

And do I really need to say anything about Dan Boyle? We were in need of offensive defensemen and he certainly does the job. Not only is he a great addition to our Defense but he and Rob Blake have also improved our entire defensive line, and combined with McLellan pushing for more shots from the blue line – our D is becoming a force to be reckoned with.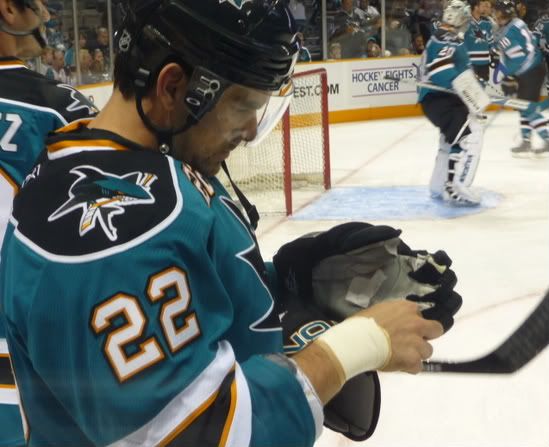 I do think that defense was a little more concerned with scoring than blocking shots last night. They let too many shots get to Nabby…shots that may have been few and far between but they were powerful…and four of them saw the back of our net.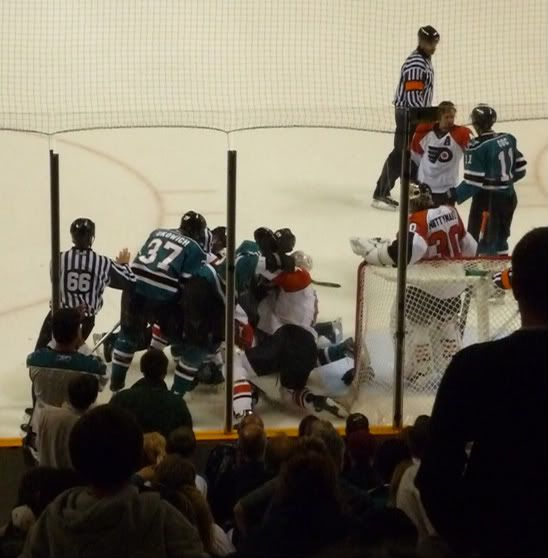 The one thing I keep hearing over and over again is how the Sharks out shot the Flyers 45-17. While to our credit, the Sharks absolutely fantastic taking shots at the net, everyone seems fixated on discrediting the Flyers on their low SOGs…to that let me just say this – at one point in the 2nd period, I looked up at our shots on goal…the Flyers only had nine…but out of those nine, three found the back of the net, so really, what does that say about this team??

I think everyone (Sharks fans included) were impressed with how the Flyers played here last night. I don't think we expected that much speed and intensity..and I know we definitely didn't expect Niittymaki to be so stellar.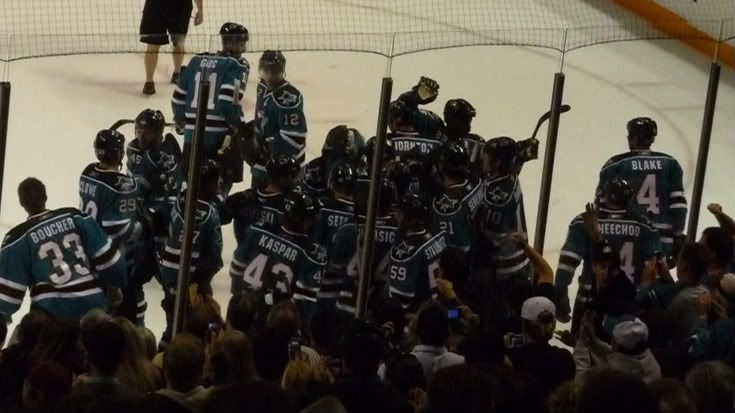 While my Sharks were absolutely outstanding on Saturday night, at times I certainly felt that this game easily could have gone the other way. The Flyers played like a winning team…and I think in their hearts they did think that they were that winning team. You Flyers fans have a lot to be proud of with these guys. They have a lot of success waiting for them this season…just as my Sharks do. I think this season is going to show us some unlikely heroes…and I can't wait to meet them.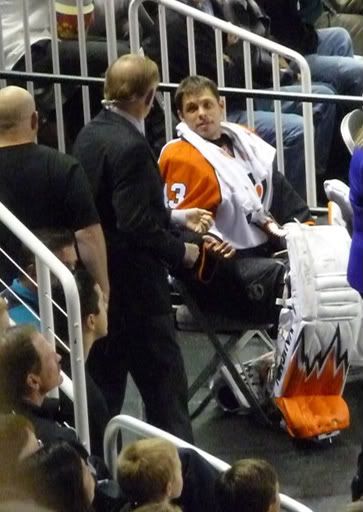 This is the reason I was so distracted during the game…
When we got home last night I asked my husband if it was ok that I loved Marty Biron more than him and he said yes. So I'm good…